Hi,
ZyGrib is an EXCELLENT program
but misses 1 feature that is very useful.
The ability of controlling the scale and colors of the legend and the map. What i mean?
Consider the following map where the temperatures of the level on 700 hPa is shown.
Everything seems the same! Every area seems to have almost the same temperature and that is because the
scale is constant
no matter what temperatures are on the map. Here the temperatures range from -10 to -4 but because the scale is constant and ranges between -50 to 50, the change of shade in colors from -4 to -10 is very small and when you have a map like this with only -10 to -4 temperatures, it is very difficult to distinguish between the colors and all areas seem to have the same temperature(color)!
My wish is zyGrib to add the feature to be able to manually change the scale and the color.
So here for example, to put the color
███
as -4 and the color
███
as -10 so the map would be much clearer and someone could much easier to distinguish the temperature distributions in the area.
This is particularly useful in
precipitation
maps(not that in temperature/wind etc maps is not useful. It is very useful also!)!! Where now the amount of precipitation seems to be at every map about the same! So for example in zyGrib you see that: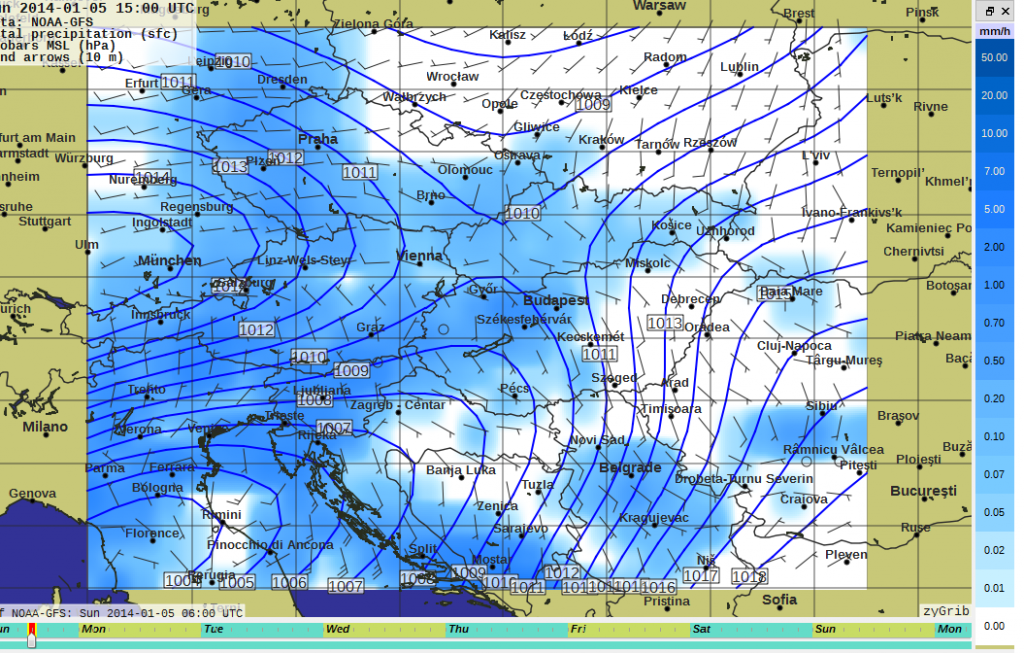 And what i'm suggesting would make it something like this: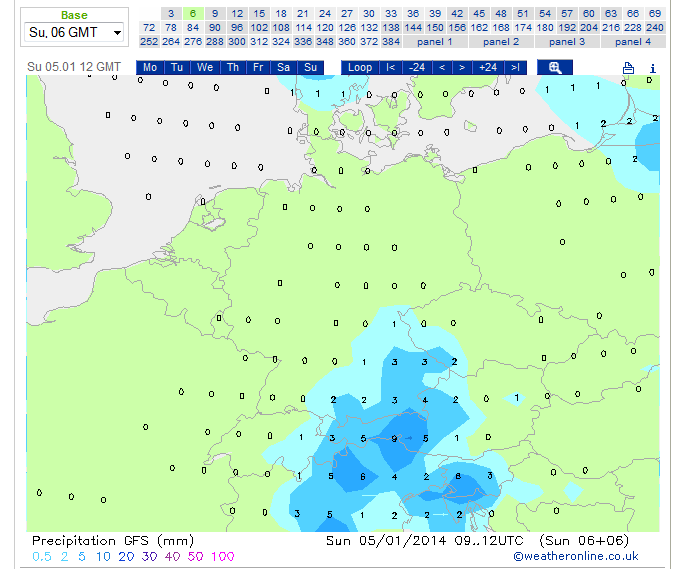 Much clearer picture of where heavier precipitation will occur.
That's why my suggestion is to:
a)
Be able to set manually the maximum seen value(e.g 2 mm/h or 8°C) and the minimum observed value of the map(e.g 0 mm/h or -4°C). Or even better the program to identify the max/min and put them itself.
b)
Be able to set the scale(the STEP) between these 2 values(MAX,MIN), i.e the number of different colors to appear, example the color to change every 0.5 mm/h or 1 °C (so for example to set min=+4 °C, max=+10 °C with step +1 °C so 7 colors to be used).
c)
Be able to set the color of the minimum and the maximum values(with an RGB picker for example) and in-between the program to fill the gaps with colors from the visible light spectrum for example, with a discrete numbers of colors of course and equal to: number of colors = (MAX-MIN)/STEP +1
The other feature i would like to see, and i don't know why it doesn't exist, is to be able to see the GFS run beyond 8 days and up to 384 hours(16 days) as it is also freely available.
I hope my suggestions would be considered and i wish i will see them in the next update.